Wedding
Your wedding day is one of the most important moment's of your life.  Choosing the right tailor will make a significant difference in your overall pre-wedding experience.  Consider using Olga's Tailor Shop for your wedding gown alterations needs.
From simple wedding gowns to detailed wedding gowns with beads and lacing, we are able to handle all your bridal alterations requirements.
Alterations on wedding dresses normally take 1 weeks to 2 weeks, depending on the complexity.  We are capable of handing rush alterations on your wedding dress.  24 hour turnaround is available for last minute
Bring your whole bridal party!
Make sure you are prepared for a great experience:
Schedule your appointment a least two weeks before the event.  Bring shoes and undergarments you will be wearing to assure a perfect fit.
For extensive alterations schedule a second fitting after the alterations in case further adjustments are needed.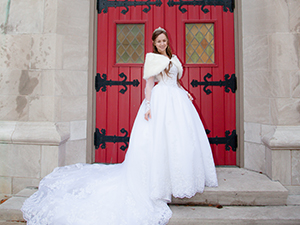 Bridal Veils
We offer customer made veils to the brides at very reasonable cost.
Wedding veils are classic accessories perfect for a traditional look or a contemporary twist. No matter what your style, the range of detail in our Olga's veils are sure to compliment your taste and complete your signature look. As an accessory for your hairstyle, a way to enhance your dress, or as an excuse to add more glamor, our wedding veils provide a lot of impact at a discount. Custom made wedding veils from Olga's Tailor Shop are not to be overlooked.